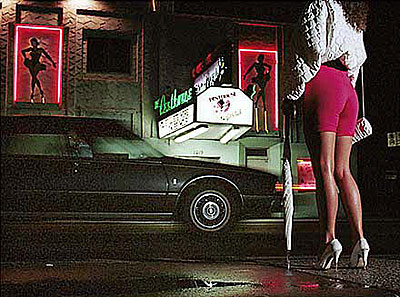 OR Gettin' Jiggy

Back in Sydney, where sun kissed firm flesh abounds! Whatevs, while I mix myself a pina colada and load up RedTube

here`s

Dinky DIYs Guide to Harlots, Whores & Hookers ... y'know, in case you're job-hunting. Inform yourselves.
The World`s Oldest Profession: During the heyday of Roman orgies, Emperor Claudius' naughty younger bride, Messalina, challenged Rome's top-billing whore to a sex marathon. Curious about who could hang in there the longest, the match was scheduled and Messalina won after 25 rounds. Atta gal! But all this skirt lifting and streetwalking can come at a price and the terrifying Jack the Ripper was not the first nor last fiend to target working girls for grim ends. Apparently business is also suffering since the economic crisis has hit .
The Happy Hooker: She is Amsterdam`s celebrity daughter of the flesh, Xaviera Hollander. Born like a thousand years ago in the Dutch East Indies she now looks like a really old blow-up doll. She ended up in New York when she was in her 20s working for the Dutch consulate, but when the opportunity to become a $1000 a night call girl popped up… well, Ol' Xaviera wasn't silly, she could do the math. After a year of cashing up, she opened her own brothel and promoted herself to madam of the Vertical Whorehouse and went on to publish her book The Happy Hooker divulging the ins and outs (ehem) of her lifestyle choices.
Working Down Under: Madam Lash, Sydney`s favourite private school educated own dominatrix extroadinaire. Our most notorious S&M artist, sex hedonist and kink-parlour proprietor. Though, she`s getting a bit long in the… tooth these days, Im sure that hasn`t diminished her appeal. These days she can be found hanging out in the Anything Can Happen room of her Palm Beach mansion, painting '4D' portraits of her famous friends and "highly vibrational individuals". Watch out for her next Mardi Gras.

Holy Harlots: Biblical stories are just seething with these misunderstood badgirls, beginning with Lilith . Mythology places her as Adam`s (of Garden of Eden fame) first wife, but her history can be traced to Sumerian legends where the feminine demon Lilitu tormented men with erotic dreams. Anyway, like so many relationships it was sex that broke up this couple of paradisians - ancient Jewish texts state;
Adam and Lilith immediately began to fight. She said, 'I will not lie below,' and he said, 'I will not lie beneath you, but only on top. For you are fit only to be in the bottom position, while I am to be the superior one.' Lilith responded, 'We are equal to each other inasmuch as we were both created from the earth.'
So she flew off and God had to make Adam a new girlfriend. Poor Eve didn`t escape getting a bad rep either, after all, she basically got the blame for all the ills of the world. The Magdalene has been redeemed a bit via Dan Brown, but 2000 is a loooong time for a rumour mill to be cranking against you. But who is the wickedest of them all? Why Jezebel , of course! The original painted lady who welcomed battle by putting on makeup forever earning herself a reputation for being mutton dressed as lamb.

Shakespearean Strumpets:

Old Bill had a filthy mouth when he tried and some of the insults one can find in the pages of his works would fuel ripping good arguments for years to come.

Shakespeare's Bawdy

is a fabulous tribute to the Bard`s command of Elizabethan slang.

When it came to whores Shakespeare had no limits to the names he could tarnish a woman with

strumpet, slattern, wench, adulteress, temptress, cuckolder, merry wife, debauncherer, stale, doxy

and it goes on.

Shame he was such a rubbish speller.